Gaming is one of the most intense activities you can do on your computers. But, when you are about to enter professional gaming and looking to play top-notch games in high FPS, most of your low or medium-end PC laptops may not work. For that, you may have to build a new PC with a decent system and most importantly, a high-performance motherboard. So, in this article, we are going to help you with this with a list of the top 10 best gaming motherboards.
We all know motherboards are one of the crucial components inside our computers which should work fine if we require a great performance from our system. Most importantly, for gaming, video editing, development, and some other top-notch computation tasks, you should take care to upgrade your whole system including the motherboard.
A high performing motherboard will be able to handle any sort of work without any hassle. So, if you want to increase RAM size, Processor frequency, and other parameters of your computer, you should do a motherboard upgrade too.
Even if you are trying to make a new computer monitor with custom installations, you should try to buy a motherboard with decent configurations and performance.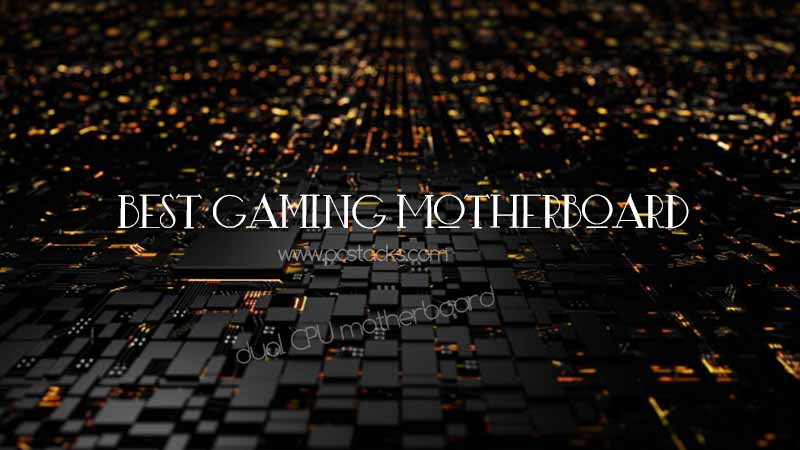 When it comes to gaming motherboards, there are some popular companies like Asus, Gigabyte, which you should choose. However, they have different models and you might not be aware of all of them.
So, in this article, we are going to give you a list of those best gaming motherboards which you can buy and use on a PC.
You will definitely get the maximum performance from your PC when you install any of these motherboards we are going to discuss here. So, without any further discussion, let's get started.
What is a dual CPU motherboard?
Most personal computers and laptops do not have motherboards with dual CPU sockets. However, if you need one for your system building, you can purchase them. But, keep a thing in mind that the power consumption will be pretty high in these types of motherboards. Lots of people use these types of motherboards because they can be pretty powerful in any term.
But, instead of buying this sort of expensive motherboards and two different CPUs, you can simply invest in a single CPU with multiple. This will be a reliable and less space-consuming option for you.
Most of the experts will suggest you go for a multi-core CPU instead of a multi-socket motherboard. Nevertheless, everything depends on your needs.
So, if you need a dual CPU motherboard, you can easily get it installed on your computer.
Top 10 Best Motherboard for High and Low-End PC
So, below is a list of the most popular and well-rated gaming motherboards you can easily buy in 2020. These motherboard models are ranked on the basis of their specifications and overall user ratings.
So, make sure to read the article till the end.
Gigabyte Z390 Aorus Ultra
It is one of the best gaming motherboards offered by Intel. The motherboard is based on an Intel Z390 chipset because of which it is capable of providing you with amazing performance. The motherboard has triple m.2 slots. Also, its RGB lighting package gives an impressive light inside your CPU.
This motherboard is priced pretty low even after having a highly impressive feature. It supports Ethernet and wireless networking along with its 6x SATA storage technology.
This motherboard is equipped with numerous other excellent features to give a top-notch gaming experience to the users.
It competes directly with Asus Rog Maximus motherboard.
Key Features:
Up to 64GB Expandable memory
10 USB ports rear IO
PCle 4.0 support
Cost-effective
Top-notch 90A power delivery
Gigabyte Z390 Designare
This is another one of the best gaming motherboards of 2020. It is equipped with thunderbolt 3 ports which is a different thing about it. Also, it has excellent overclocking limits to provide you much more effective results than its limits.
The motherboard is compatible with the Intel Z390 chipset with LGA 1151 socket. 13 phases voltage regulator is available with this motherboard. 10 GBPS USD ports are given to receive impressive I/O results.
Along with that, you get a 3-year manufacturer warranty which most of the other providers mostly lack. Along with that, the system is priced at an attractive price range and that is the only reason why this motherboard is here on our list.
Key Features:
Two Gigabit ports (ethernet)
8K passthrough from 1.4 graphics card
Switchable third x16 slot between CPU and PCH lanes
PCle x16 v3.0
ASRock Z390 Phantom Gaming ITX
This is another good option if you are looking to build a gaming-oriented PC. This best motherboard of 2020 has LGA 1151 socket with Intel Z390 chipset support. The mini ITX form factor is there with 7 phases of voltage regulation. You also get PCle x16 v3.0 with full bandwidth. 10 GBPS USB ports are given for high-speed data input and output.
Just like the above model, this motherboard will come along with 3 years manufacturer warranty for you. Also, it is priced so well that everyone would love to have this motherboard. The motherboard comes along with highly improved Core i9 support.
With all these specifications, you can expect a great gaming performance from this motherboard. However, we would suggest researching more about it on the internet.
Let's know about some other features of this motherboard below.
Key Features:
Amp and Thunderbold 3
Wifi at 1.73 GB/s speed
Great overclocking features
Excellent voltage regulation
Amazing RGB lighting
ASRock H370M Pro 4
This motherboard is known as one of the best Intel370 motherboards you can buy in 2020. It is equipped with the LGA 1151 socket along with its support for the Intel H370 chipset.
The motherboard has the Micro ATX form factor which is another great thing about it. 10 phases of voltage regulation are there to ensure a constant and precise power supply to its components. The PCle x16 is of version 3.0.
Also, it has 10 Gbps USB ports just like the motherboard we discussed earlier. However, there are some drawbacks too including No RGB controlling feature and no front panel header.
The motherboard is rated well by lots of gamers and normal PC users. So, you can definitely trust this package. Some other features of this best gaming motherboard of 2020 are as follows.
Key Features:
Two Gen1 and two Gen2 I/O panels
Four front-panel 3.0 ports
3 years manufacturer warranty
PCle x16 v3.0
Same price as B360
Gigabyte X299X Designare 10G
This is another one of the best motherboards which are based on ATX X299. The form factor of this motherboard is EATX. 12 phases of voltage regulation are there on this motherboard. 10 Gbps USB Ports are there in the package.
Type C thunderbolt ports are also available on this motherboard. With this motherboard package, you will get PCle x16 version 3.0. This motherboard is recognized for its great performance along with highly impressive features that will surely offer great gaming advantages.
In simple words, you can use it to run any sort of top end game at the highest levels of graphics and FPS. This motherboard package is great to have great advantages for playing professional, multiplayer, and online games.
Some other advantages of this motherboard are as follows.
Key Features
Dual Displayport inputs
Thunderbolt 3 support
Dual 10Gbe along with Wi-Fi 6 (2.4 Gbps)
Intel's 40Gb/s controller
3 years warranty period
Asus ROG Strix Z390-I
This is another best gaming motherboard you should definitely consider buying in 2020. But, it is good only for intel builds with a small form-factor. The package supports the Intel Z390 chipset along with its 1x expansion slots.
PCIe x16 is supported by this motherboard. 7x rear I/O USB ports are available with 1X front and 4x internal ports. The system supports 4x SATA storage. When it comes to networking, it has support for Ethernet up to 866 Mbps.
You can use it for both low and high-end gaming purposes at high FPS. However, it will work well if you expand its memory and use overclocking features for CPU enhancements.
The motherboard has HDMI 2.0 and DisplayPort 1.2 for superior graphic outputs. Some other advantages of this motherboard are as follows.
Key Features:
Dual M.2 Slots
Amazing overclocking capacity and system performance
Upgraded Intel 9560 2×2 802.11ac
Affordable Price range
RGB Lighting supported
MSI MPG X570 Gaming Pro
For AMD Ryzen 3000 builds, this is one of the best motherboards you can buy for your gaming PC. It comes along with an AMD X570 chipset with DDR4-4400 memory configurations. You get HDMI ports with this motherboard.
Along with that, the storage is 6x SATA supported and the networking is Ethernet and 2.4 Gbps 802.11ac supported. You will get 8x rear IO and 4x internal USB ports with this setup.
With these specifications, it becomes one of the best options to choose from for your gaming PC build. Some of the other advantages are as follows.
Key Features:
Three-zone RGB lighting with 3X RGB header
2 PCle 4.0 M.2 slots
Wi-Fi 4 supported
PCle 4.0
Asus TUF Z390-Plus
This gaming motherboard is designed to work for 8th and 9th generation processors. The motherboard has an LGA 1151 socket with support for DDR4 memory. It is equipped with Wi-Fi 802.11ac and USB 3.1 2nd generation.
Its dual M.2 enables the processor and the whole package to achieve a good processing speed. In this way, it becomes a good system for not only gaming but video editing and various other hardcore computation tasks.
Because of these reasons, lots of gamers prefer this motherboard instead of anyone else. It has 8 channel gaming audio to provide an amazing audio output. Some other advantages are as follows.
Key Features:
SafeSlot and FanXpert support
S1200A HD audio codec
Military-grade components including TUF Languard
Gigabit Lan
Asus Optimum 2
Asus ROG Crosshair VI Hero
This is another amazing gaming motherboard with support for AMD Ryzen AM4. Also, it is powered by HD 2000 series processors to provide great output. The package achieves great speed and connectivity with its NVMe M.2 front panel USB 3.1.
Also, it offers you 5-ways optimization with FanXpert and some other advanced features. It has Aura Sync RGB lighting which makes it a great looking motherboard while gaming.
Some other features are as follows.
Key Features:
USB 3.1 with DDR4
Anchored PCle Slots
3D-Printing friendly mount
8 Channel HD audio output
MSI Z170A Gaming M5
This is another best gaming motherboard offered by MSI for any sort of gaming need. The motherboard is an LGA 1151 socket for Intel 6th generation processors. It has an Intel Z170 chipset.
Also, it offers 1 USB 3.1 generation Type-A port. It has support for ATX systems too. You will also receive 3-way crossfire and 2-way SLI support from this motherboard.
Not only this DDR4 boost feature is also there with its amazing overclocking capacities. XMP Led is given along to provide amazing visual effects. Audio boost and enhancer features make it the best pick for any sort of gaming requirements. Some other advantages are as follows.
Key Features:
DDR4 Memory system
USB 3.1 supported
Intel Z170 chipset
Amazing overclocking features
Nahimic audio enhancer
---
Final Verdict
These were some of the best gaming motherboards of 2020 you can consider buying while you are setting up your gaming computer. However, make sure to research more to make a wise decision. All of these packages are highly tried and trusted by numerous people all over the world. So, you can get them installed on your PC and receive impeccable outputs.
Note: You can buy these motherboards online but the prices may vary depending on your locations and other things. So, make sure to find the best deal to get facilitated. However, your selection may vary as per the budgets, required specifications, motherboard brand, etc.
We hope you have found this article helpful for the purpose you were reading it. All these points were highlighted after a lot of research. So, make sure to share your valuable feedback in the comment section. Also, tell us about more articles you may want to read.
Feel free to share this article with others to help them with the same. Besides, we keep publishing this sort of article on daily basis here. So stay connected with us and keep reading.