PXIMouse is a driver application that is used to enhance your computer operating experience. Most importantly, when you are using your monitor for gaming, this process is going to appear most often. We should tell you that this Windows process is related to your mouse.
As its name suggests, this application is utilized by your mouse to operate in a certain way. It is basically effective to improve your mouse experience.
Most of the users are even not aware of things until they reach their computer's Task Manager. In fact, Task Manager is one of the places where you can see this application running.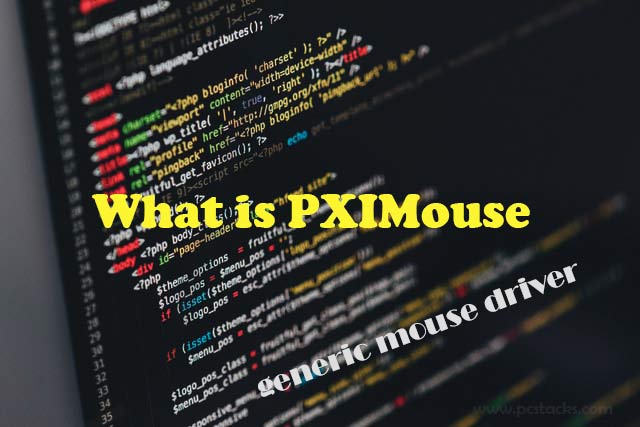 Are you curious to know what is tiltwheelmouse.exe process on your Windows computer? Well, there is a big hype around the internet on this process. Most people think it's a virus whereas some may think it is any unwanted software they have installed without an intention.
Along with that, you will find various kinds of answers given by people for this task. This process is related to mouse and you should definitely keep this thing in mind before doing anything with the process or your system itself.
In this article, we are going to answer all your questions regarding the PXIMouse process and everything related to it. In fact, you are going to know the things no one else is going to give you on the internet.
File Manager, you can see it as pximouse.exe, or in some other systems, it could appear as tiltwheelmouse.exe. All these processes are the same but not always. So, if you are seeing something like PXIMouse or pximouse.exe running continuously on your system, you should definitely do something about it.
The best way is to see if you need this application. If not, it will be good to uninstall it. But, various people want to know where this process is legitimate or not. So, this is what we are going to uncover here in this article.
Now, without any further delay, let's get started with a simple introduction to this process.
What is PXIMouse?
As we have discussed earlier, this application is related to your mouse. But, what causes this application to get installed on your PC? Well, this doesn't happen automatically.
You do it on your own. If you want to know about this process, PXIMouse is a mouse driver program developed by PixArt Imaging Inc. The company is indulged in making image sensors and various other things to optimize our pointing devices.
The company is also a manufacturer of optical sensors. So, if your mouse is having this kind of sensor installed in it, it could be the most probable reason why this application is installed on your PC.
This application will get installed on your PC automatically whenever you plug it in and use it for any purpose. There is nothing to be worried about if your computer is also having this process running all the time.
However, we are going to know the process of uninstalling below in this article.
Is PXIMouse dangerous for your computer?
No, PXIMouse is not a dangerous application or process which you should be worried about. However, it is going to consume some amount of your CPU and memory all the time while it's working.
But, it is not going to cause other potential harm to you. It may be running in the background all the time. But, keep a thing in mind that PXIMouse is not a virus. In fact, it is a helpful software which will work only when you need it.
If you are not sure whether your mouse is using this driver or not, it is better to keep it away from your PC.
There is no harm you are going to face while using this software. So, make sure to delete it only if you are fully assured that you do not want this application anymore on your computer.
PXIMouse malware (dangerous or useful Software)?
Because this application behaves like unwanted software running in the background, lots of people may think that this application is a virus. But, it isn't. If you think it is a virus, try using an anti-malware scan and you will find this software again on your computer.
We have tried scanning this software using various antivirus software but none of them were able to detect it as a virus. So, there is no need to worry about its legitimacy. It is better to let it run on your computer.
Most possibly, your mouse might be using this driver software and you are not aware of it. If you uninstall it, you may see several issues with your computer.
The PXIMouse Windows product?
Lots of people may imagine that this software has come inbuilt in their computer. But, it is wrong and it is also wrong that Windows is the manufacturer of this software.
This is a completely third-party application that is installed either directly or indirectly on your computer. It can get installed if you are using a certain type of mouse or other pointing devices on your PC.
Especially if your mouse is using the sensor developed by PixArt Imaging Inc. you will most probably see this process working on your computer.
But, it is completely wrong to say that this software is from Windows. Just, neglect it if anyone says it to you. It is better to delete it if you think you do not need it anymore.
Windows software are limited and they get installed in very few numbers even with a clean install. Also, you get Windows written as the manufacturer in your control panel.
You can get this information by going to Control Panel>Programs and Features that which software or application is installed and which company has developed it.
In simple words, the PXIMouse process is not something windows have installed on your PC in any way.
 Are PXIMouse and TiltWheelMouse the same?
We can't directly say that both these software or processes are the same. But, you can see various debates on the internet saying that both applications are same and developed for the same purpose.
We can't directly admit that both these applications are the same and developed for the same purpose. But, we can easily say that both of these things are developed to enhance the mouse activities in certain ways.
Also, they will appear on your computer especially if you using it for gaming purposes. These applications may also appear if you are using a special gaming mouse that has the options to adjust the DPI and its various other functions.
Again, you can easily uninstall both these applications or software. But, we would suggest you understanding their purpose first of all. Only then it will be good to delete these apps from your PC.
---
Can I Uninstall PXIMouse or tiltwheelmouse.exe?
The simple answer is Yes. You can delete PXIMouse without any issue. The windows computer gives you the freedom to delete this software. Although it may get installed on its own, you can still delete it anytime you want. But, before deleting it, you must check whether you need it or not.
If your system or mouse need this package to run properly, it is good to keep it installed. This could be understood either by reinstalling the mouse driver or by disabling it for some time.
The application is running whenever you use your mouse, you should never delete it. However, if the process is running all the time, deleting could be a considerable option for you.
If you really want to know Can I uninstall TiltWheelMouse and how to uninstall PXIMouse, just follow the procedure given below?
How to uninstall PXIMouse (generic mouse driver)?
There are certain ways you can follow to either disable or uninstall this software from your Windows computer. The first method is pretty simple where we are going to make use of the Control Panel for uninstalling this package.
This task might not get success in most cases. Because the system will not display this software as an installed package, you can't directly use the control panel for the same.
However, in some cases, you are going to see this software actually in the Control Panel's menu. So, let's see if this thing works for you.
Uninstall TiltWheelMouse using Control Panel
The process is pretty simple to follow. You just have to open the Control panel and follow some things to proceed for the uninstallation. Anyone can do this thing without any technical knowledge.
If you follow this guide properly, you will be able to do it without any hassle. So, let's see how you can perform this step to easily uninstall the PXIMouse process from your PC.
Press Windows keys on your keyboard
Now, search for Control Panel and then click the first result
Inside the Control Panel menu, go to the option Programs and Features.
Search for the tiltwheelmouse.exe or PXIMouse.exe process.
Right-click this application and click Uninstall.
Proceed further for the uninstall.
It will be good if you restart your computer after doing this process. Now, check again if your Task Manager is coming up with this process.
Disabling through System Configuration Menu
As we discussed earlier, if you are not able to see this software in your Control Panel menu, you will have to follow another procedure for the same.
So, this one is perhaps the best way to uninstall PXIMouse process from Windows PC. One is also a very easy process to follow. However, make sure to choose this process only and not any other thing.
This is a pretty powerful tool that you can use to disable any process from your computer. So, if you want to get the most out of it, just follow the procedure given below.
Press the Windows+R button together to open the Run Command
Enter msconfig and hit Enter
Go to the Services Tab and check to Hide all Microsoft Services.
Now, in the list of all the processes, find the option named PXIMouse or pximouse.exe.
Just uncheck this process and apply the changes.
After following this process, just restart your computer. Your settings will be saved and these applications will never run until you uncheck it here at the same place.
Uninstall tiltwheelmouse.exe using a third-party PC cleaner
If any of the process given above is not working for you, you can try using a third-party PC cleaner software for the same. On the internet, you can find various software helping PC users make these things easier for them.
You can any uninstaller software for Windows including:
Revo Uninstaller
Wise Program Uninstaller
IObit Uninstaller Free
Geek Uninstaller
Advanced Uninstaller Pro
All these software are amazing in their processes. You can simply install them on your computer and use them to delete any software you want.
PXIMouse or any other unwanted software can also be deleted using this software without any hassle. This is perhaps the best way to reduce your workload and make things easier for you. You can try using any free uninstaller software for the same.
Will my mouse work properly after uninstalling PXIMouse?
If your mouse is relying upon this driver software to do its job, you are surely going to see some issues after deleting it. The first thing could be some issues with your mouse working.
It may stop working totally. However, if everything is fine, you have to worry about nothing. But, in most cases, you are going to see some issues with your mouse movement and overall working.
This software helps your mouse to do its jobs properly. It is offered by Pixart imaging Inc. company, so if you are using any of this company's device, it is better to keep it installed.
But, if you are seeing any issues with your computer or mouse, you can download and install this software again on your PC. Just follow this link to get this software again(PXIMouse).
In simple words, if you are seeing your mouse misbehaving after deleting or disabling this process, it is better to install it back again. This is perhaps the best way to keep everything running in the way they were earlier.
---
Final Verdict
We hope you will now have a clear idea of which is PXIMouse and how to uninstall PXIMouse from your Windows computer. This software simply does its job to effectively run your mouse or other pointing devices using a certain set of codes given by the PixArt Imaging Inc company.
So, if you are deleting it from your computer, you are doing it on your own responsibility. You can see certain issues with your mouse or even the computer after deleting it.
We suggest you doing it only if you know what you are going to do further. Otherwise, we suggest you install this software again on your computer.
We hope you will find this article helpful in this regard. If you have found this information informative, make sure to share it with the others too. You can use social media or any other method for that.
Along with that, give us your valuable feedback in the comment section. You can also share ideas for future posts. We would definitely try to help you with everything we can. Let us know what you think about this information.
We keep coming with regular articles in the technology and software niche here on this website. So, stay connected with us.
Thanks for reading!