Monitor calibration is such an important work to do whenever you want to have the most out of your computer display. You can feel the need for calibrate a monitor anytime when you need to use your system for video editing, photo editing, and various other tasks. Calibration can be required in various other fields and you will be able to use it to customize your user experience in a better way.
So, if you are curious to know what is monitor calibration and how to do it, this article is going to help you with the same. We will help you to get all the required information about calibration and every important thing you should know.
You might have been heard about calibration. It is simply a process of adjusting your monitor color, brightness, contrast, and other parameters in a way that the screen can produce the required type of outputs.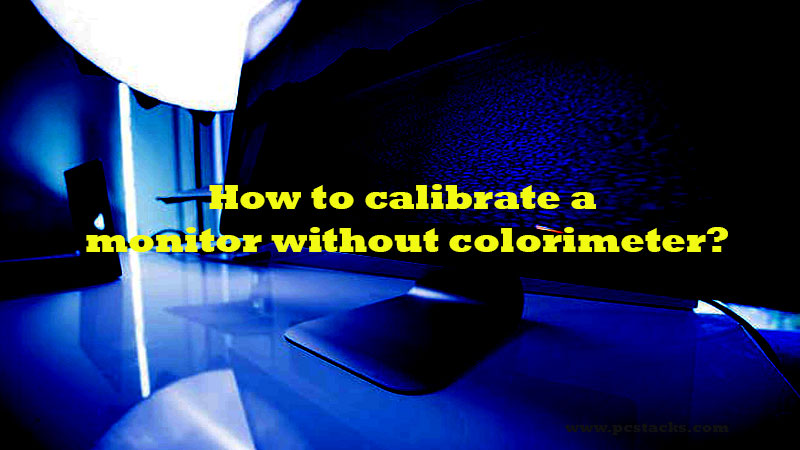 As per your requirements, you may need a different kind of screen outlook and that's what you will be able to do with the help of monitor calibration. Fortunately, there are several things you can do in order to achieve the desired levels of monitor calibration. That's what we will know inside this article. You will be able to calibrate your monitor properly and have the desired results without any hassles.
This article will provide you with enough details about all the important aspects of monitor calibration. So, whether you are using a Windows, Linux or Mac computer, you will be able to know how to calibrate your system properly.
Lots of people use different software for this job. But, we are going to uncover all the things you can try with your hands. Our goal will be to inform you of all the important things which you should keep in mind while calibrating your monitor. Most of the time, photographers and other creative people try to do a monitor calibration. But, you may feel the need of doing the same anytime. So, it will be good if you are well aware of each step in advance.
We can use a colorimeter to make our job much fast and efficient. But, it is still possible to do without using it. We will see everything in detail inside this article. So, without any further delays, let's get started.
What is Monitor Calibration?
Monitor Calibration is an important task to do when you want to get the desired color outputs from your monitor. So, whether you are a casual photographer or a professional editor, monitor calibration can help you in several manners.
It is basically a process of adjusting your color outputs in the desired manner. With the help of profiling and calibration, we make sure that the monitor is able to show the colors in a proper manner without much modifications to them.
Calibration can easily be done by simply adjusting the contrast, brightness, and other visual elements. But, there are various other things you can do to achieve the required levels of the result. So, when we create a color profile and then try to show any image on our monitor, this image will display after getting filtered out from this profile.
Now, the colors and shades may vary when you compare them with another monitor or laptop. So, in some cases, calibration can become extremely important for you. That is why we are here to help you with everything.
Core requirements to calibrate a monitor in windows?
We all adjust color, brightness, shades, contrast, and various other things on our monitors. But, monitor calibration can be a pretty different thing as per your core requirements. You can make use of this procedure to ensure proper color outputs.
This can be pretty helpful when we talk about professional photography and photo editing. You can make use of a calibrated monitor for different other tasks as well.
These things are good to know when you want to jump into a creative career. So, we are going to know how to calibrate a monitor in Windows.
How to calibrate a Windows monitor for the right colors?
Before doing anything else, you must be aware of the process of finding the controls which you can change later on. Windows will allow you to use various software for this task. But, you can also make use of Windows's inbuilt functionality for the same.
It can easily be done with the help of some clicks and you can generate great colors for sure. In fact, accessing this feature and making the most out of it is pretty easy.
We are going to know everything about it here. So, let's get started.
Go to Cortana and search for Calibrate display color
Now, make sure you are on the screen which you want to adjust
Once you are done, click Next
Adjust the gamma settings on the next page
Now, adjust the brightness appropriately
Now, its time to adjust the contrast
On the next page, you will get the options to change the color balance
Just compare the previous results and current ones to see the difference. You can just save the changes and the calibration is done
Things to consider while calibrating your monitor?
There are several factors you should keep in mind whenever you try to calibrate your monitor. You can't just change the brightness, sharpness, and all that stuff without a good knowledge of everything.
So, you must be well aware of all those things and how they are going to change the results. We are going to know about the main factors you should always keep in mind whenever you try to calibrate any monitor.
1. Mid-Tones
Having a well-calibrated mid-tones profile is always the most important thing for any kind of calibration. Whether you want to utilize your system for photo editing or any other task, mid-tones is the most important thing you should do. And the level of adjustment should be kept normal.
Here, the most important thing is your main requirement. You should always be aware of the tones you need for your color outputs.
2. Contrast
If the contrast is too high or low, your images will never appear in the way they should be. Contrast is one of the main things which are going to matter when you come to a professional place.
If you want to create optimal image results, contrast should be kept in a range where you can have the most out of your image.
3. Highlight and Shadows
If you are taking proper care of your mid-tones, now you might be getting too high or low shadows and highlight characteristics. So, your next step should be to properly adjust both of these characteristics.
Shadows should be kept optimal and so are the highlights. If highlights are important for you, you can easily compromise with the mid-tones. But, if you want good shadow features, take care of both of them.
How do I calibrate my new monitor?
A new monitor will normally come with its default color, contrast, and other values. But, if you are going to use it for productive works, you should always try to configure them in a way that they can give you good quality results.
If you have recently bought a new monitor, you can simply follow the above procedure to open the calibration settings in Windows and then try doing all these things.
The choices are up to you and your requirements. You should take care that everything including shadows, colors, and contrast is important for optimal results.
As per your needs, you can make use of proper colors and everything else you may need for your monitor to perform in a good manner. If you a gamer, you may need a different monitor as compared to a normal user.
However, in some cases, if you are another general user, you may not feel the need of monitor calibration at all.
So, when it comes to a new monitor, make sure to understand what you want to get from it and how you are going to get the same.
Do you need to calibrate your monitor?
Again, the answer to this question will vary depending on the type of results you want to get from your monitor. So, if you are a professional photographer, you will surely need to calibrate your monitor. However, if you are using your system for typing, browsing, or other simple tasks, you will never feel the need.
So, we can't tell you whether you need it or not. You will have to make this decision on your own. Now, if you are not seeing the colors correctly on your screen even after not applying any filter, you should be able to get good results. And, if you are not able to do so, you should definitely go for monitor calibration.
Again, the use of the colorimeter or any other professional tool for calibration is not mandatory. You can easily do everything with the help of the inbuilt system settings or even with third-party calibration software.
But, all these things will be able to produce the results only if you are properly aware of your requirements. The calibration requires a good knowledge of colors and other properties.
So, if you are doing it without any prior information of all the assets, you can make it worse for yourself.
How do I know if my monitor is calibrated correctly?
If you are a professional, you should be able to detect the colors easily with your eyes. But, for more professional works, you either need a colorimeter or other tasks. But, we have found a great way to do the same.
You can simply get an image printed using a good quality printer and then check if the color produced is matching with your printed output. If the colors are matching properly, it means your monitor is showing the actual results properly.
Another way is to compare the resulting image with another monitor or laptop screen which is calibrated properly. There is no other way to do the same. While looking at the same colors over and over again, you can feel that a different color is like another one.
But, when you actually print those outputs, you get to know the difference. As per those printed images, you can easily make changes and let your monitor work on its default settings.
Can you calibrate the laptop monitor?
Yes, it is totally possible and easy to calibrate your laptop screen just like an external monitor. Both of them are screens and support all the settings and features equally. So, as you can change those parameters on your monitor, you can easily do the same on your laptop as well.
The calibration of the laptop monitor is identical to what we have done earlier. The settings will be found at the same place and you will be able to change them the same as you did on your desktop computer.
All these settings will make the effects immediately. So, whether you are talking about an external monitor or a laptop screen, everything can be configured in your desired manners.
5 Efficient Monitor Calibrator tools for Touch-enabled Display
You can easily get access to various types of monitor calibration tools in the market. But, we are going to know about the five most popular ones you should definitely try if you are really looking to have the best results.
X-Rite i1 Display Pro
This is one of the best monitor calibrator tools you can use for any kind of calibration tasks. The device can easily be connected to your system with the help of a USB. It supports all kinds of devices including monitors, laptops, and projectors as well.
This device works with the help of the latest technology called the Flare Correct. This will help you to adjust your display profile and reduce contrast ratios properly.
Datacolor SpyderX Pro
This one is another highly precise and fast device to easily detect and change your monitor color specifications. The accuracy is just awesome and you can use it with any kind of system you want.
It will be able to produce precise results by detecting the color properties without any hassles. The lens-based sensor system is great to fasten up your calibration speed. This software is best to use with its own software which you should use for best results.
Datacolor SpyderX Studio
This one is another great product offered by Datacolor in this niche. This one is most suitable for professionals. You can make use of this device for both monitor and print solutions.
However, this may not be suitable for all the beginners out there. It can be used to calibrate any kind of color for any type of your requirements. So, using this one for any task will definitely be a good thing for you.
X-Rite i1Display Pro Plus
You can use the i1Display device with any laptop or monitor of your choice. It can easily be connected to your device or system with the help of a USB connector.
This device used to calibrate not only the screen but also the projectors. It also supports HDR and super-bright displays. It can handle up to 2000 nits as compared to the other products which can handle only up to 1000 nits.
Wacom Color Manager
This one is another great solution if you are using any of Wacom devices. So, if you have a Wacom monitor, this one should definitely be your choice.
The device can easily be connected to your device with the help of a USB. It will perform all the important tasks you will require from your calibration device. It has a 1ms response time and that is why it becomes a suitable option for professional uses.
---
Final Verdict
So, this was all about the calibrate a monitor without using a colorimeter. We hope you are now aware of everything you will need for the same. However, all the details can't be covered inside a single article. So, as per your requirements, you can search for other online resources to have good results for you.
You should always be aware of your requirements before you make any decision. Regarding all the devices we have discussed here, make your decision wisely after doing proper research.
We hope you have found this article helpful. If so, consider sharing this information with others as well. You can use social media for this purpose. We would advise you to let us know about any other article you want to read here. We will always be ready to help you with everything we can and keep coming with regular articles here on various technology and software-related topics. So, stay connected with us for more.