Good screen quality is always one of the most important factors determining how well we are going to have with our systems. But, along with the type of computer, laptop or touch screens, it is important to understand the surface of the screen. Normally, we get two types of computer screens i.e. Glossy and Matte screens. Whether you are buying a separate laptop, single, dual curved computer monitor, or multi-screens you will have only these two options to choose from. Well, there are specific needs and importance of both the screens. Each one of them suits well within certain situations.
So, choosing between these two can sometimes become difficult for us. This happens because we never know the main benefits of these screen types. But, in this article, we are going to reveal every important detail about both these screens. So, by the end of this article, you will be able to know which one is best for you and why.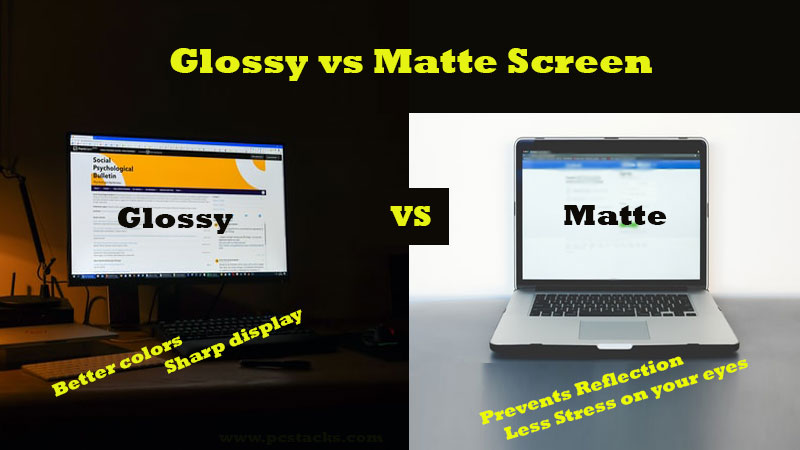 We will understand all the facts and benefits of these screens and reasons why you should go for which one. It is possible that you may need a matte screen and you were about to choose the glossy one because of any reason. But, we will help you to understand everything in a proper manner in this detailed article.
You might have heard that matte screens are best to prevent reflections and that's a true thing. We often hear things like matte screens are good for our eyes. Well, that's true but there are surely various other things which may benefit you in other manners.
Like if you are using a matte screen, the lights can be very pleasant for the eyes. However, a glossy screen can help you to get good results when it comes to colors and graphics.
Now, we should definitely know some more details about both the screen types. So, let's get started.
What is the matte screen and how's it Benefit?
The matte screen can be determined as the screen whose surface is not completely plain. The finish of the surface is rough as compared to a plain glass panel. Lots of people call these screen anti-glare screens. And, that's why they are popular.
Anti-glare means that these screens will not emit any sharp lights from them. In other words, it will make your screen look smoother. However, if you are in need of a very sharp screen, you should never go for a matte screen.
These screens are made up to give a pleasant viewing experience with less strain on your eyes. This property also makes the screens less prone to scratches. This is the reason why lots of users put anti-glare screen protectors on their glossy screens for better results.
Benefits of a matte screen
You might have become aware of the key benefits of a matte screen. But, below are some of the other main benefits you will receive with these screens.
1. Less Stress on your eyes
This is one of the main reasons why people opt for matte screens instead of glossy ones. In fact, you will be able to use your screen more effectively if it has a matte finishing. It is a fact that a glossy screen will put stress on your eyes fast as compared to a matte screen.
Now, if you are not a very frequent user of your system, you might be able to get good results with a glossy screen. But, matte displays are recommended mostly for a better experience.
2. Prevents Reflection
Suppose you are using your laptop in a bright room full of lights from everywhere. Now, your glossy screen is most likely to show the reflections and prevent you from viewing the content properly.
This is a major benefit of matte screens. Your vision will be interfered with by the reflections very little. In fact, you can use your laptop or computer with a matte display in any condition and you will see great results for sure.
3. Good for long-time uses
If you use your computer or laptop for long periods or you are a professional working in front of your computer screen all the time, a matte display is beneficial for you. As we have discussed earlier, the matte screen will be much gentle on your eyes.
So, you will experience very less strain if you are using your computer for hours continuously. The opposite will happen with a glossy screen. Your eyes will start to burn very soon.
Is matte screen better for eyes?
Yes, matte screens are better for your eyes because they cause less strain on your eyes and eliminate reflections. In simple words, a glossy screen will shine very much when it comes to showing bright colors.
Glossy screens are very vibrant and that's the reason why your eyes become so much strained after long uses. A matte screen is always a good decision if you have any kind of eye problems. Sometimes, glossy screens can cause various problems with your eyes. You can feel headaches as well.
We are not saying that you should never use glossy screens but it is a good decision to go for a matte screen when you have two options to choose from.
That's why we are going to show you the top laptops with both matte and glossy screens. So, if you are thinking about purchasing a laptop for yourself, you can proceed further.
Do matte screen protectors reduce the quality
Matte screen protectors can be used to convert your glossy screen into a matte one. They can be used as an external and temporary screen guard which will make your screen matte. But, if we talk about the display quality, these screen protectors will do their job effectively.
Yes, when it comes to the sharpness of screen and color reproduction, a matte screen protector is surely going to reduce the overall screen quality. But, most of the time, it depends all on your need that whether you want a matte protector or not.
These screen protectors are available in the market at very small price tags. So, you can just try it and see if its works for you.
If you are doing it just for testing, you will get your answer for sure. They are going to reduce the display quality because you do not get that crisp display as you get with a glossy screen.
So, make sure to try it first and if it doesn't work for you, you can remove it anytime.
What is a glossy screen?
If you properly read the article above, you must have become aware of what a glossy display is. Well, you can say that a glossy screen is the one whose surface is well finished like a glass. You will feel no roughness on this screen by touching.
When it comes to viewing, the colors will come very sharp and the screen will feel more bright as compared to the matte screen. Glossy screens are best for those who have to work with colors and lights.
For example, if you are a video editor or graphics designer, it will be good to work on a glossy screen and not on a matte one. However, it is all up to your preferences that what you are choosing. But, generally, glossy screens are good to have a better viewing experience.
Benefits of glossy displays
Well, we now know why glossy displays are good. But, there are several other benefits of these screens as well. Let's know about them below.
1. Better colors
It is definitely a good decision to buy a laptop with a glossy screen if you want to experience great colors on the screen. Because of their foggy nature, matte displays hide the colors. But, a glossy screen will show you all the colors as it is.
This will enhance your experience because you will be able to identify everything in a proper manner. Especially if you are working in a creative or professional field where colors are important, you should surely choose a glossy display.
2. Sharp display
The overall look of your display will be very sharp when you pick the glossy screen for you. This will improve your experience and you will have great results for sure.
Whether you want to surf the internet or watch movies, a glossy screen is always better when it comes to showing crisp visuals. However, lots of people love to watch content on the matte screen and that's all up to them and their preferences.
How do I know if my laptop screen is matte or glossy?
It is very easy to recognize which screen your laptop is having. You can do it by just moving around your hand on the screen. Make sure that no glass protection is used.
Otherwise, you may not be able to see the difference. But, if your laptop or the monitor is set up normally, it is very easy to tell which screen it has. Let's see how you can do that.
1. By touching the screen
As their name suggests, a matte screen will feel rough when you move your hand or fingers around the surface. However, a glossy screen will feel very smooth.
A glossy monitor can sometimes create a noise when you touch its surface. But, a glossy screen will always feel like you are touching a mirror. On the other hand, a matte screen will feel like you are not touching a screen but any other plain surface.
2. By reflections
This is the most common thing you can try to check whether your laptop has a matte or glossy display. Just put your laptop outside of your room. It will be good if you take it under the sunlight. Now, if the screen is showing a lot of reflection just like a mirror, it's a glossy screen.
On the other hand, a matte screen will look like a non-reflection material. You can never see your face on this screen no matter how much light is there.
3. On the user manual or website
If you are still not sure about the screen of your monitor, it's good to check your user manual or visit the official website where you can exactly see which screen your laptop is having.
This is perhaps the best way to confirm this thing officially. You can easily check the screen type in the specification section and you are done.
Best laptops list with matte screens which is Anti-glare Based
Start using anti-reflective displays
Below is a list of the best laptops with matte screens that you can buy directly from Amazon. We hope you will now able to pick the right one for you.
1. Lenovo Ideapad S340
This laptop is a perfect pick if you are really looking to have the power of anti-glare technology. The screen is superior and Full HD. Also, all the configurations are enough to help you get the most out of your system for any task.
It has an Intel i5 processor with 8 GB of RAM. The laptop has a great build quality. But, the main thing to notice here is the matte screen which looks extremely great.
You can visit Amazon to know more about this product.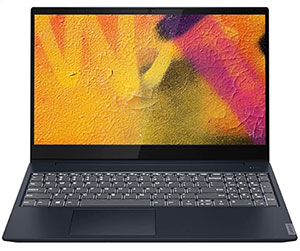 2. Asus VivoBook E12
This is another great option to choose if you have a really limited budget but want a great laptop with an anti-glare screen. The laptop has an Intel Celeron processor which is enough to text editing, browsing, and media consumption.
However, the screen is great but smaller in size i.e. 11.6 inches. But, the laptop is priced under 300$ and that's the reason to go for it.
3. Dell Inspiron 5300 13.3-inch
This laptop is another good option to choose if you really want to use a powerful system with a matte screen. The laptop comes with a full HD screen. The processor is Intel i5 and you will get 8 GB RAM along with it.
The laptop looks and feels premium. The laptop is just awesome for any kind of usage including word-processing, video editing, photo editing, etc. You can check it out on Amazon now.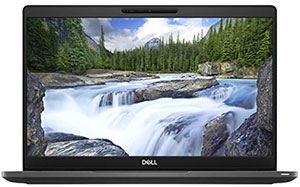 4. HP Omen 10th Generation
If you want a laptop with a great anti-glare screen that is made up for gaming, HP Omen 10th generation can be a good option for you. This laptop comes with an Intel i5 processor and 8 GB of RAM.
The screen is great for gaming or any other task. But, you can surely use it for gaming because of its great graphics card. The laptop is available for a very good price if we look at its features.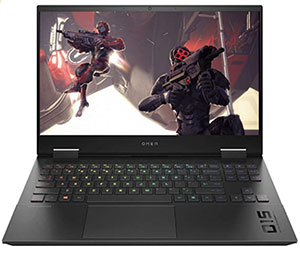 5. ASUS VivoBook 14 
Asus Vivobook 14 is another good option if you want to buy a laptop with an AMD processor. It is equipped with Ryzen 5 processor along with 8 GB RAM. The screen is full HD and 14 inches in size.
The laptop is good for normal usage including video editing, browsing, etc. The nano edge technology is great and offers a good display experience.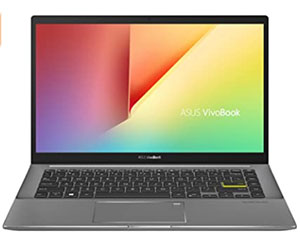 Best Laptops Glossy Screens with good color reproduction
Brightest Screens | More than 300 nits Laptop
These are some of the best laptops with glossy screens. You should be able to find the best one for you for sure.
1. HP 8Gl256G 15.6 
This one is a good decision if you want to go for an affordable solution. This laptop comes with an i3 processor and 8 GB of RAM. But, the main thing is that the laptop has a glossy, BrightView, a screen with 220 nits brightness.
The laptop is great to handle most of your general tasks. It is good for media consumption, internet surfing, and various other professional works as well. So, just go for it if you need an i3 laptop with a great glossy screen.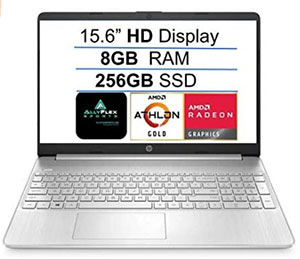 2. Lenovo Ideapad 3 
This is another great option to choose if you are looking to invest in some more configurations. This laptop comes with an Intel i5 processor with 12 GB RAM and SSD. The laptop is great for all your general tasks along with some hardcore works including video editing, photo editing, etc.
The company says that this laptop beats the intel i7 processor. But, the main highlight is its 15.6" glossy screen. So, if you can invest some more, this is a great option for sure.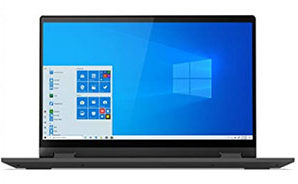 3. HP 14-CF0014DX 
This laptop can be bought from Amazon at a price tag below 500$. So, it is definitely a good decision if you want to have an amazing deal. The laptop is equipped with an Intel i3 processor and 8 GB of RAM. A 128 GB SSD will come along with this laptop and it's great for performance.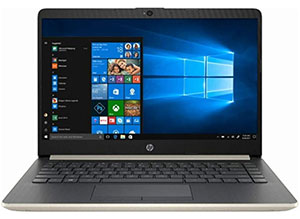 4. Microsoft Surface Laptop 3 
When it comes to excellent display quality, this laptop is definitely worth the investment. However, it comes with a little bit higher price tag. But, it has an Intel i7 processor which makes it extremely fast and capable.
So, if you have a budget of more than 1000$, you can go for it. It has a glossy touchscreen which will surely enhance your experience.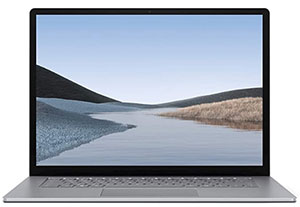 5. Acer Aspire 5 A515-55-56VK, 15.6″ 
This laptop has an Intel i5 processor along with 8 GB DDR4 RAM. These configurations make this laptop great for general and some professional uses. The laptop also has a fingerprint reader which is a unique offering.
If we talk about the screen, it comes with a glossy 15.6" IPS display. The laptop has various other features which make it the best option at just 550$. You can buy it on Amazon now.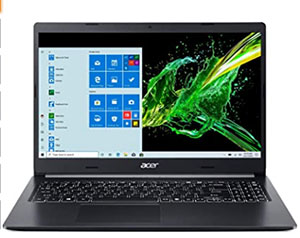 ---
Final Verdict
We hope you are now aware of all the important things you wanted to know about both matte and glossy screens. We have added all the important details you need to know before making a decision.
Also, all the products given here are fully tried and tested. So, you can go for anyone you want. However, we would suggest you doing a bit more research before making a decision.
We hope you are aware of what to choose between matte and glossy screen. If you liked the article, consider sharing it with others as well. You can use social media for the same. Also, let us know about anything else you want to know about. We will surely help you with anything we can.
Let us know what improvement you want to see in this article. We are always open to listen to you. We keep coming with regular articles on technology here on this blog. So, stay connected with us for more.
Thanks for reading!