Ghosting is one of the most common problems you can face any type of monitor. The issue is caused mainly by monitors all the time. Your system has very little to do with this stuff. But, if you are facing this problem on your monitor, it is important to fix it properly because it is not going to happen on its own. So, if you want to know what is the screen and monitor ghosting on a LED and how to fix it, this article is going to help you with everything.
Whether you have an LCD or LED vertical monitor, this issue can appear on any computer. But, most of the time, you are not able to see if it actually ghosting or anything else.
The only time you will see this effect is when you do any fast-paced thing on your screen.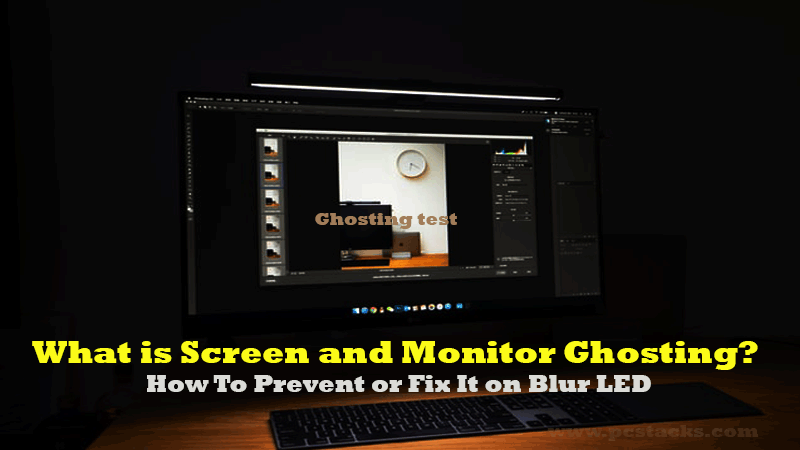 This can include scrolling a web page or playing an FPS game. You will see long or short trails going on with the moving objects. And this is pretty frustrating because you don't know why this is happening and how to fix it.
However, there are some great ways to do so. Most of the time, this issue can be solved using your monitor controls.
If the issue is caused by your system specification and compatibility issues, you might be able to solve it using the system settings. This will depend totally on the type of monitor and the system specification.
Solving this problem is easy without finding any professional support. But, if the problem is caused by some kind of compatibility problems, you will have to find specific solutions for the same.
We are going to know about all the possible things you can and should try to solve this problem. All these steps are effective in fixing this issue. But, you will have to do the things as per the model and brand of your monitor.
However, you will have a good idea of everything once you have finished the article. Also, we will know about all the possible fixes you can try with your own hand.
So, without any further discussions, let's get started.
What are monitor ghosting and its Causes?
Ghosting can be described as a situation when you start to see the moving trails on your screen. These image elements will appear only when you are doing any fast-paced activity on your monitor.
We can say that this is going to happen when you are playing games or watching videos where some high-speed things are being displayed.
Ghosting can happen because of various reasons but it happens mostly because of a poorly configured monitor setup or display sharpness. Also, some refresh rate issues can be there.
But, the main thing is that this thing is going to eliminate your user experience.
For example, if you are playing some kind of FPS games on your computer, the moving objects will appear to have some extra effects. But, they are not the effects, they are actually the glitches you are observing.
This can be very bad for the professional gamer. Not only in gaming, but you can also find these things bad while doing video editing and some other kind of high-end tasks.
Now, let's see the possible reasons for monitor ghosting.
What are the causes of ghosting on New Monitor?
There could be numerous things behind this issue. But, as you are aware that this is happening because of some kind of sluggishness in the graphics, you can find the main reasons without any hassle.
In fact, there are very few things you can find as the potential reasons for this issue. Let's talk about them below.
Refresh Rate
Refresh Rate can be a big reason why you are experiencing this issue on your monitor. When your PC has a lower refresh rate than 65hz, then this issue is going to cause issues. This can become worse when the game you are playing needs a refresh rate more than this.
Along with that, if your system has a high response rate i.e. more than 10ms, you can experience the same issue because of this reason.
The refresh rate is going to give a huge impact on how the games are working on your computer. Now, you can imagine that if the refresh rate is lower, it can be pretty tough to get it fixed.
In that case, it will be good to change your monitor setup.
Backlight Bleeding
This problem will be there on the LCD only. This is caused when a burned-in image is displayed on the screen. You can get rid of this issue temporarily by just restarting your monitor.
However, the proper solution is to just replace your screen and find a newer one for you.
This is one of the main problems resulting in ghosting and it can't be fixed using the normal troubleshooting methods.
Don't get confused with these things as Monitor Ghosting
There are a lot of confusions going around related to ghosting but they can't be called ghosting in any way. Perhaps ghosting is a popular phenomenon and people know about it.
So, they may assume all these things as monitor ghosting. Let's know about them.
Image Retention is not monitor ghosting
Retention is mostly assumed as ghosting but it's not. It can happen on LCD screens and Televisions when the screen retains the images.
So, when the content is updated and if the screen is not able to update it, you will see the artifact of previous frames. This can sound something like ghosting but it's not ghosting in any way.
However, there are other things you can try to fix image retention but we are going to cover it here in this article.
Monitor Ghosting is not Motion Blur
Yes, lots of people think that monitor ghosting is nothing but a motion blur effect that has been set mistakenly. If you have a monitor with a high refresh rate, it will have very little motion blur. And you can adjust it using your settings.
However, ghosting is completely different from it. It is the inability of your monitor to update the latest content however motion blur will work as an effect because of any reason.
Monitor Ghosting is not Burn-in Effect
The burn-in effect is there only in the OLED displays. This is another issue that is permanent and you can't do anything to fix it up.
However, you can try to avoid it by not showing static images on the screen for longer periods. Fortunately, you will not see this problem in any other monitor except the OLED.
How to fix Ghosting on your LED Monitor Screen?
There is nothing much you can do to fix this issue. However, you should definitely try taking these steps if you really want to confirm there are no issues with the software or system itself. Any hardware issue will be solved by the professional only. So, now let's talk about how to fix ghosting on the monitor when it's a blur.
1. Check Refresh rate and response time
The first step is to confirm whether your monitor has enough refresh rate to update the content is the way your system or game wants. It is worth checking if your monitor can handle the refresh rate much more than this.
If it is possible, this can surely be a potential solution to your problem. Doing this on any Windows computer is pretty easy. You can easily check and change your refresh rate if possible on your Windows system.
You can also make use of various software. Search for them on the internet if you want. Now, let's see how you can check your refresh rate.
2. Enable Overdrive
Most of the latest and some old monitors come along with the overdrive function which is another great feature you can use to reduce or eliminate the monitor ghosting problem. Different monitors will call this feature differently and we are going to discuss them later.
But, the point is, lots of users have recommended using this thing if you really want to solve the issue. Doing this is pretty easy. You do not have to get into complex system settings.
This feature can be found and utilized using your monitor controls pretty easily.
So, let's see how you can get this done.
Press Menu on your monitor control panel
Now, choose the option: Overdrive on Acer monitors, AMA on BenQ monitors, Trace Free on Asus Monitors, and Response time on LG and Samsung Monitors.
Make sure to turn this function On
This will help your monitor to remove this effect and show the images and videos normally. Now, you can check if the ghosting problem still persists. If yes, just go to the next step.
3. Check the visual effects
If you have started seeing this issue just now, it can also happen because of some kind of visual effects. If you have enabled any kind of effects earlier, they can appear whenever you play games mostly. So, you will have to check and stop them immediately.
But, there are various kinds of things you will find on your monitor. So, it is better to keep all those things turned Off or in their normal position.
This will help you to see the image in the normal condition and check if your monitor is behaving differently just because of these settings. Doing this will be very easy and you will have to confirm whether it is ok or not.
Below are the settings you will have to check. Make sure to keep off.
Dynamic Contrast
Perfect Clear
Motion Smoothing
Noise Reduction
Once you have disabled all these special effects, check if you are getting the ghosting problem or not. If so, you can go to the next method.
4. Check your connections
Make sure to confirm whether your monitor is connected to your system properly or not. Most of the time, it happens just because of loose wired connections. You can try to change your wires if you can.
Also, it will be better if you can test another monitor and see if the problem is still there on a different monitor. If you can, just replace your cable with a new and branded one.
By doing all these things, you will get to know whether it is happening because of faulty connections or not. If not, you can proceed to the next step.
5. Update your Drivers
Not all the drivers, you just have to update the drivers which are related to your display properties. These could be your monitor and graphics card drivers. This is another big reason why you might be getting this problem on any kind of monitor.
If your drivers are not up to date, the hardware can start coming up with several issues just like monitor ghosting. So, you will have to make sure that your graphics drivers are updated and working properly. Doing this is pretty easy. You can either use third-party software to get this done or just update them manually.
We are going to use the manual method here because it is fast and most reliable. So, let's see how you can update your graphics driver in Windows 10.
Press Windows + X keys together on your keyboard
Choose the option Device Manager
Now, go to Display Adapters
Choose the device you are using and right-click it
Now, click Update Driver and then pick manual and automatic update methods as per your needs.
Once done, make sure to restart your computer. You should be able to fix the issue if you were using an outdated driver. If not, below is the final step you will surely have to follow.
6. Replace your monitor
If any of the above-given methods are not working for you, it is better to replace your monitor. Additionally, you can get in touch with a professional for better help but if your monitor is not capable of handling high refresh rates, you will have to get a new one to do your desired tasks.
Now, we would suggest you go for any popular brand and a good monitor as per your budget. But, make sure to have these specifications in your monitor before making your decision.
Refresh Rate: Above 60Hz
Response Time: Below 5ms
Lease Lag Time
All these things should be considered whenever you try to buy a monitor with the best features. However, in order to get visuals, you might have to consider some other things such as contrast ratio and the type of screen.
But, refresh rate and response time both are the most important thing if you want a monitor without any kind of ghosting issues.
How check to monitor refresh rate on Windows 10?
It is very easy to check your monitor refresh rate on Windows 10. If you want, you can follow the below steps very easily and confirm whether your monitor is made to do the desired type of tasks.
The process of checking your refresh rate is pretty straightforward. Let's see how you can also do that.
Press Windows + I keys together to open Windows 10 settings
Now, go to the System option
Choose the Display option on the left pane
Now, press Advanced Display Settings
Now, click Display Adapter properties and then Click on your monitor
You will see the refresh rate given there
If possible you can easily follow the same process to change the refresh rate of your monitor. This can eventually solve your issue if your monitor is working at a lower refresh rate than its highest potential. Let's see that as well.
Change the monitor refresh rate (How in Display Adapter)?
Below is the process of changing your refresh rate if your monitor supports it. It can happen because of various reasons that your monitor is working on a less refresh rate than its highest range.
Your system can do that or you might have set it at that range. Now, let's see how you can try to change it as well.
Follow the same process again and reach the Display Adapter properties menu
You can see your refresh rate below Monitor settings, system refresh rate
Just toggle the dropdown and change it to your desired range
Then click Ok and exit
You should now be able to get rid of the monitor ghosting problem if the low refresh rate was your problem. If not, we are going to discuss some other issues which you can also follow along.
---
Is Monitor ghosting bad for gaming?
Not only ghosting is bad for gaming but it can ruin your gaming experience even if you have good overall system specifications to run high-end games. You are going to see image artifacts and it will feel like you are playing the game with an enabled blur effect.
A professional gamer will never want to have this problem with their monitor. This problem will appear when there is some kind of fast movements in your game. In normal games, you can't even detect that this problem is occurring.
But, it is definitely a good thing to solve this issue if you are using or want to use your monitor for gaming purposes. This will help you to easily make your gaming experience much smoother.
If you have a monitor with a very good refresh rate i.e. more than 60Hz, you should definitely try to check if your monitor is working to its full potential.
You can try to set its refresh rate to the highest and then see if the problem goes away.
---
Final Verdict
We hope you now know what is ghosting on a monitor and how to fix it. Make sure to follow these methods properly and get yourself a good monitor if you are not able to get it fixed using these methods.
However, all these methods are fully tried and tested and you should follow them properly in order to get the most out of them.
If you have found the solution to monitor ghosting with this article, let us know about the same in the comment section. Also, let us know about any improvements you want. Make sure to tell us which method worked for you.
If you know any other effective method to solve this problem, let us know about that as well. We keep coming with regular articles here on PC Stacks. So, stay connected with us for more.
Thanks for Reading!